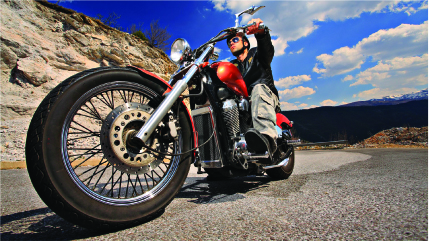 Motorcycle Safety
Many of our clients purchase motorcycles because they are fun and fuel efficient, and the fact that they're more dangerous than a car is not news to many people. In fact, motorcyclists are 27 times more likely to be in a fatal crash than a car according to the Insurance Institute for Highway Safety (IIHS). Almost half of all motorcycle deaths are the result of single-vehicle crashes.
However, there are many people who ride for a lifetime without injury. Here are some of the tips to keep you safe while you enjoy life on two-wheels:
Don't buy more bike than you can handle. When shopping for a bike, find one that fits you. When seated, you should easily be able to rest both feet flat on the ground without having to be on your tiptoes. The handlebars and controls should be within easy reach. Choose a model that is easy for you to get on and off; if it feels too heavy, that means it probably is.
Invest in anti-lock brakes. Anti-lock brakes are now available on a wide array of models and are a proven lifesaver. Locking up the brakes in a panic stop robs the rider of steering control. This easily leads to a skid and crash, leading to serious injury. ABS allows you to retain steering control during an emergency stop, and slippery conditions.
This feature is now standard on many high-end models. Make sure you ask your representative if an insurance discount is available for ABS. It's a worthwhile investment!
Hone your Skills. Find a good Motorcycle Safety riding course in your area. A single class can teach you the basics, and some advanced techniques. You can find classes that range in price from free to about $300 by searching the Michigan Department of State Motorcyclist Training Site Locator.
Use your head. Riders without helmets are 40 percent more likely to suffer fatal head injury crashes and are three times for likely to suffer brain injuries, than those who wear helmets, according to government studies. While this is an emotionally heated topic, the statistics speak for themselves.
When looking for a helmet, you should consider safety ratings, helmet size and head shape, type of impact absorbing liner, and retention system, before finalizing your purchase. Specifically, paying attention approval by the Department of Transportation can help guide your purchase.
Avoid bad weather. Slippery conditions reduce your margin for error. Rain cuts your visibility and reduces your tires grip on the road, which can make cornering tricky. If you do need to ride in the rain, remember that the most dangerous time is right after the precipitation begins, as the water can cause the oil residue to rise to the top of the road. Try to avoid making sudden maneuvers. Be gentle with the brakes, throttle, and steering to avoid sliding.